Home
/
Social Media
/ Use Cross Promotion To Build Better Engagement On Social Media
Use Cross Promotion To Build Better Engagement On Social Media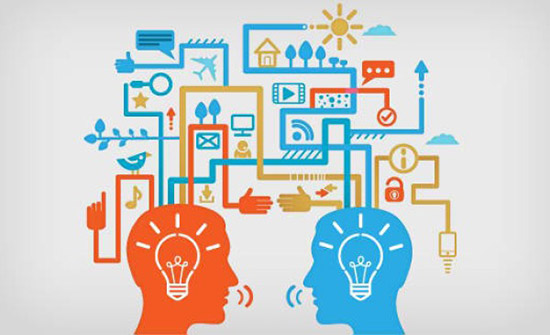 I'd like to offer my thanks to Brian D. Hawkins for giving me some ideas on how to present this subject.
If you want to be effective at using Social media as a marketing tool, you must use it daily. If you want to truly engage people on Facebook, Twitter, Google+, and Pinterest, then you need to check in daily. Whether you are linking your blogs to social media pages, or engaging on the blogs and pages of others, a little bit each day as opposed to marathon stretches done sporadically will get you much further down the road to building a good following.
Finding ways to bridge platforms across social media is going to yield a greater return for your efforts. It's good to connect with your audience on multiple platforms because people aren't necessarily going to frequent all of these sites, but those who do cross the "divide" will become more at ease with you, if they get to know you in different social media "settings.
Furthermore, cross-connecting platforms will save steps and bring a consistency of reach that is going to count big when people reach for their wallets.
There are 2 components to this:
Multiple Platform Connections
Building Business Relationships
Linking Multiple Platforms
Facebook and Twitter
First off, linking between social media is in its early stages. Twitter and Facebook can be integrated together. When they are integrated, if you post on Twitter, Facebook can read your tweets. That is a great feature, but since the two platforms are slightly different in character, you have to remember to monitor your tone on twitter closely. It is certainly available to hide tweets that don't work well on Facebook.
You should also include your Facebook address in your short bio for Twitter. Some people have more than one Twitter page and include that in their bio, as well.
Facebook is still the largest social media site. It makes sense that other social media will become integrated to Facebook in the days ahead.
ScoopIt is another way to make the most of this connection and add in LinkedIn. Brian D. Hawkins had this to day in one of his posts about ScoopIt:
When I want to share the posts of other members on Facebook, I simply "Scoop It" and then use that ScoopIt URL on Facebook and across the other social sites. This is another form of cross promotion and helps all parties involved. My Scoop It following grows and the posts of the other bloggers get that much more exposure.
Google+
Linking Facebook and Twitter to Google+ is available on a PC or MAC using the free download SGPlus for Firefox or Chrome. I must confess that I haven't been able to access it on my MAC. It looks like the PC version is easier.
In lieu of that course, I recommend trying to link it ala Robert Scoble in this illustration: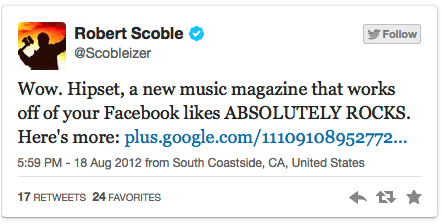 Scoble pasted a link from Google+ onto Twitter, which then, if he's set up like I am, it appeared on Facebook. Pretty neat, don't you think?
Pinterest
One way to integrate even further is to include your Facebook and Twitter addresses in your Pinterest bio. Since the Facebook and Pinterest are not synched at this time, it is not available to pin directly from Facebook onto Pinterest.
Pinterest is an image driven media. So while pinning from one to the other won't happen, what is available is to take screenshots of Facebook and Twitter and pin those photos onto Pinterest. The reverse is also true; you can have screen shots of Pinterest and post them as photos on Facebook.
Cross Channel Relationships
As you engage on each of these sites, you'll want to send a consistent message throughout. One that is clear, value driven and fun. Simplicity is everything. Remember there are tens of thousands of other people transmitting their messages, too. We want to make it easy for people to see and understand our unique offerings.
Keith Kinsella of Direct Marketing News made the following statement in an article he published:
No consumer wants to feel like a number—unless it's number one. To make consumers feel like they're getting more one-on-one attention, marketers are depending on real-time personalization.
Though he is referring to the combined use of email, web, mobile devices and other channels to reach prospective buyers, the same principle holds true for social media. When we endeavor to reach people at the heart level, and that means getting away from the SEO factory of Twitter to the friendlier let your hair down aspects of Facebook, Google+ and Pinterest, people feel a real connection.
Don't get me wrong, though—I love Twitter. For reaching sheer numbers in a short span of time, Twitter just can't be beat. It's like going on a treasure hunt for articles. I've even connected and have mini conversations with people on Twitter. But things aren't as rigid on the other platforms.
About The Author
Rita Mailheau is a freelance writer, and blogger from San Diego, CA. She specializes in helping businesses reach their online potential through clever copy and good storytelling.